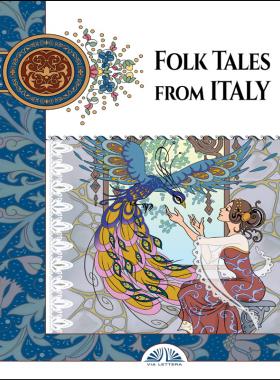 Published by Via Lettera Ltd.
Translation from Italian: Diana Nikolova
Editor: Roberta Moretti
Cover and illustrations: Kamena Dimitrova
ISBN paperback edition: 978-619-7204-16-2
ISBN e-book: 978-619-7204-15-5
Year of publication: 2020
176 pages
Format:  130 x 200 mm
'Folk Tales from Italy' is the English translation from Italian of the collection, published by Via Lettera Ltd. in 2017 in Bulgarian. The book is being published simultaneously as an e-book and as paperback edition. It comprises of twenty three popular stories and legends from all parts of the country. The immense and rich folklore of Italy will lead you from the world of daily routines to the world of magic, from the bizarre transformations of the protagonists to the resilient wit of ordinary people. 
The book contains three sections – Popular Wisdom, Magical Tales, Animal Fables. All three together reveal the deep bond between man and nature, they teach us to be brave, patient and inventive in the pursuit of our dreams. The incredible adventures and plights of the characters will make you think harder on the power of human virtue, friendship, love and loyalty.
The folkloristic tradition of Italy has always been a source for plots and ideas for some of the greatest literary and musical artistic works. These folk tales have survived to our times thanks to a long list of wonderful folklorists. It is through them that we today learn a lot about the rites and habits of the country, about the common aspirations and concerns, about the shared dreams and ideals that invariably pass from one generation to another on the sunny boot of Europe.